Fragments of a German American Mind: The Films of Konrad Mueller 
is a curated collection of eight works both about and by a 
fictional
 filmmaker, Konrad "Konnie" Mueller, shot over the past thirty years. The exhibition—which mixes dramatic and documentary film, interviews, and archival photography—reflects Mueller's own experiences growing up in a German-American community and his German American family history. 
Presented in a variety of formats ranging from digital video projection, high definition video display, 360° video viewed on a virtual reality headset, and 16mm film presented on Moviola and Moviescop viewers, this collection explores the meaning of home and the enduring allure of investigating one's own ancestry. 

16mm film and digital video, 84 minutes, color and black and white
© 2017/2020 Germantown Films
"A rare gallery exhibit consisting entirely of film and video,
Fragments of a German American Mind
is a Meta examination of identity and the inherent egocentrism in contemporary art."
     -- Keith Waits. Arts-Louisville.com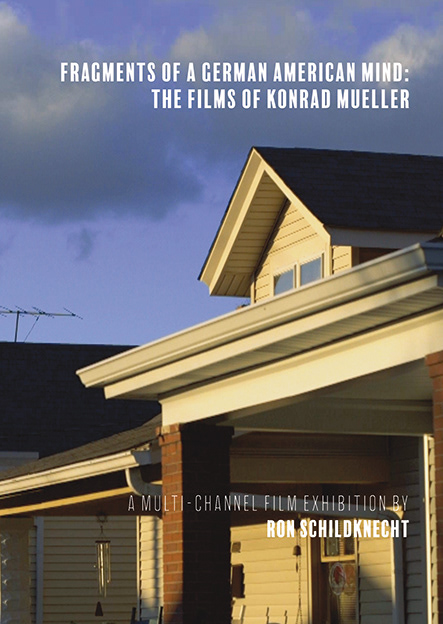 All films in their entirety from the exhibition 
Scenes from the cutting room floor
28-page full color exhibition catalogue 
Channel A – Konnie's Story
2017
16mm Film, Digital Video
Video Projection, Speakers
7 minutes
Filmmaker and curator Ron Schildknecht produces this first film about Konrad Mueller's personal and family history. Konnie's Story mixes present day images of Mueller with footage from Mueller's past films. This short lyrical film provides the audience with essential context for viewing the body of work that composes the exhibition as a whole... (Full text in exhibition catalog)

Channel B – Early Germantown Studies
1986
16mm Film
Moviola and Moviescop Viewers, Fullcoat Sound
6 minutes
Konrad Mueller started making trips back to Louisville's Germantown in the mid-1980's when he purchased a used Bolex 16mm film camera from an aging film hobbyist. Recruiting childhood friend Clancy Dixon as a collaborator, the pair filmed the beginning of a narrative (with no script). Their intent was to recreate Mueller's own return to his hometown after a long absence, prompted by the death of his father. Mueller created the character of Hank Bauer as a fictional double of himself; this filmic doppelganger retraced Mueller's own journey home, attempting to find reconciliation and solace in places where Mueller himself had failed... (Full text in exhibition catalog)

1998 / 1999
16mm Film, Digital Video
Video Projection, Speakers
8 minutes
Corner store proprietor George Hauck describes the game of dainty as "a poor boys' street game using mom's worn out broom handles, back in the day when cars seldom drove down the roads." A tradition he created in 1971, today the annual World Famous Dainty Contest is recognized as a day of neighborhood celebration. The festivities take place outside Hauck's Handy Store on the last Monday of every July, and local dignitaries often participate in the contest. The dainty stick lies on the ground; contestants take turns hitting the dainty with another stick which they hold in their hands. The winner is the person who causes the dainty to move the greatest distance... (Full text in exhibition catalog)

2003
Digital Video
Video Display, Speakers
12 minutes
...Of all of the customs the Germans and the German-Americans have embraced, the annual Oktoberfest event is the most celebrated. The Oktoberfest tradition started over 200 years ago. On October 12, 1810, King Ludwig I married Princess Teresa and all the citizens of Munich were invited to attend the celebration. The festivities lasted for five days, ending with a horse race. The horse race was repeated the following year, giving rise to an annual tradition. The celebration, which now begins in September in part because of better weather conditions, now attracts over 7 million people to the sixteen-day Munich event...(Full text in exhibition catalog)

2017
Cirkut Camera, Digital Video
VR Headset with iPhone, Speakers
2 minutes
In this 360° short film created specifically for this exhibition, Mueller seamlessly blends images from yesterday and today. Life for those of German descent, who lived in Germantown, centered around their church—St. Elizabeth of Hungary. Then and Now opens in front of St. Elizabeth of Hungary Church in Louisville, Kentucky, present day. Hundreds of parishioners, photographed in 1928, slowly fade in. They are joined by a live action photographer, operating an authentic Cirkut camera—a rotating film camera used to create panoramic photographs...(Full text in exhibition catalog)

Channel F – A Tale of Two Artists
1997 / 2002
16mm Film, Digital Video
Video Display, Headphones
12 minutes
During his explorations in the Germantown neighborhood, Mueller befriended two artists, both unique in their training and their style. Martin Rollins is a classically trained painter, with whom Mueller struck up a friendship not long after he returned to his old neighborhood. He often spotted Rollins on the streets surveying the neighborhood in search of scenes for his next oil painting. Mueller became enamored with Rollins' evocative landscapes and began offering his photographic services in exchange for paintings...(Full text in exhibition catalog)

Channel G – Reflections on Germantown
2017
Digital Video 
Video Display, Headphones
17 minutes
For the second film of the exhibition not auteured by Mueller, Schildknecht traveled to California to interview Mueller and actor Nicky Shane. Shane portrayed Henry Knopf, Mueller's protagonist in his first feature-length dramatic film, Germantown. Both Mueller and Shane live in Los Angeles but are no longer in contact with each other. The interviews expose the tenuous nature of the relationship between the director and lead actor of the film. The two started out as friends before the nature of the production process eventually took its toll...(Full text in exhibition catalog)

Channel H – Germantown, An Excerpt
2000 / 2017
Super 16mm Film
Video Projection, Speakers
20 minutes
Konrad Mueller's first feature-length film, Germantown, tells the story of Henry Knopf, who is Konrad Mueller's second stand-in for himself. Henry returns to his childhood neighborhood during an existential crisis. He finds both personal redemption and a path to a meaningful future by discovering his own family history and rediscovering the community he left behind...(Full text in exhibition catalog)

The eight films in 
Fragments of a German American Mind: The Films of Konrad Mueller
represent selected works about and by a fictional filmmaker. Ron Schildknecht mixes staged interviews, a dramatic film, documentaries, and archival photography in this collection which creates a portrait of a nonexistent artist. The films here are both "real" and "fictional," calling attention to the artifice required in creating even the most seemingly authentic dramatic films and documentaries. The filmmaking endeavors and German heritage of the fictional Mueller are loosely based on Schildknecht's own experiences and history. This fact encourages us to question the motivations of semi-autobiographical work and to consider why we, as humans, are driven to re-tell our own stories through the lenses of fiction and art.
Germantown Films presents Nicky Shane Lec Zorn Clancy Dixon
George Hauck  Martin Rollins  Gus Ballard Benjamin Porter Jeff Lomax
Mary Evans Lott  Sara Morsey  Ingrid Schildknecht & Rev. Herman Naber
A MULTI CHANNEL FILM EXHIBITION BY RON SCHILDKNECHT
"Fragments of a German American Mind: The Films of Konrad Mueller"
Funded in part by Kentucky Arts Council
Kentucky Educational Television Kentucky Humanities Council
Kentucky Oral History Commission & Alderman Steve Magre
Photography Jennifer Tichenor  Richard Bram Ted Wathen  Anne Pecaro & Dennis Robinson
Directors of Photography Marcel Cabrera & Ron Schildknecht
DVD/Catalog Graphic Design Lori Larusso  Music by John Robinson
Associate Producer Sharon Colton
Written by Ron Schildknecht & Flora K. Schildknecht
Produced, Edited & Directed by Ron Schildknecht