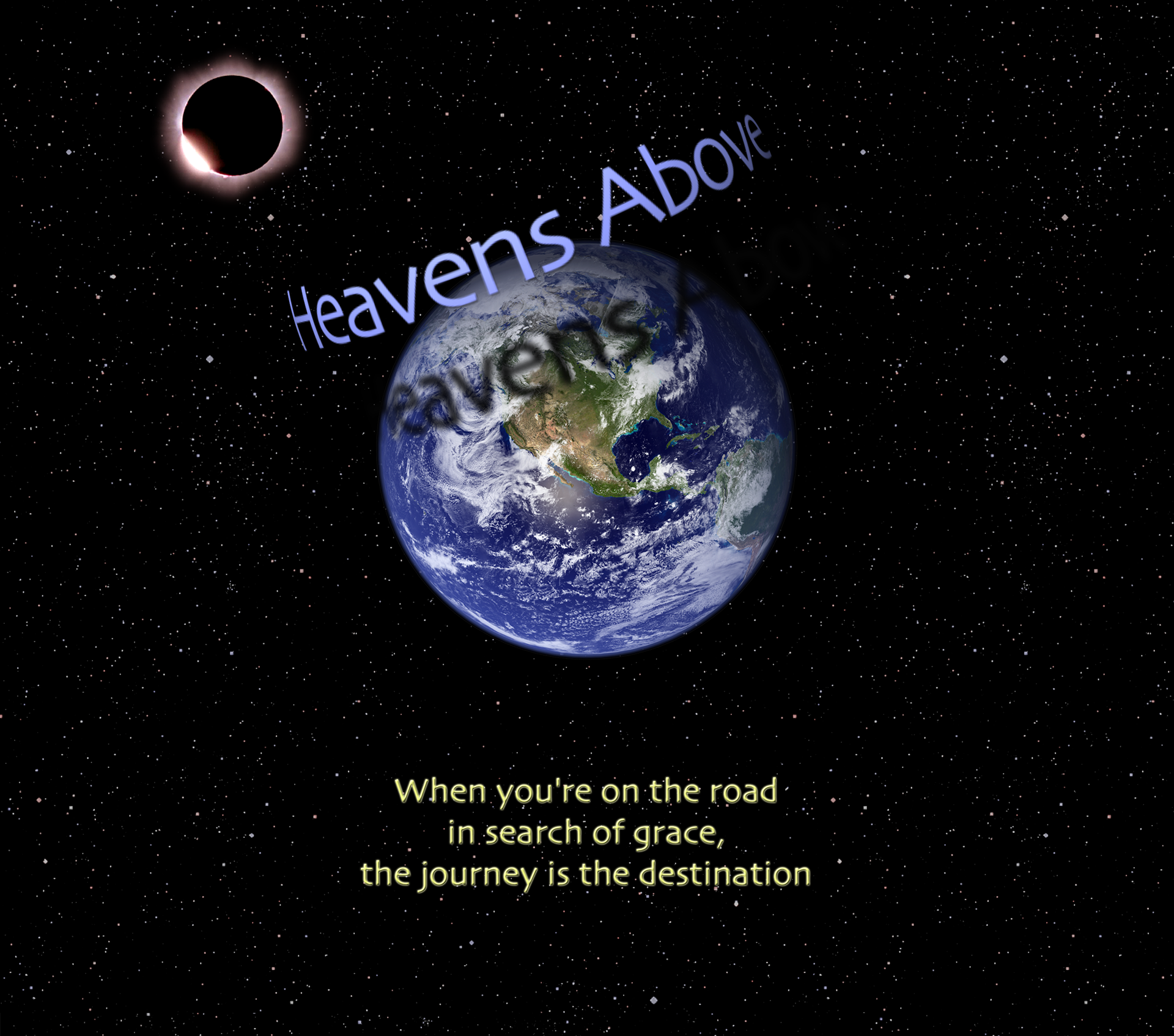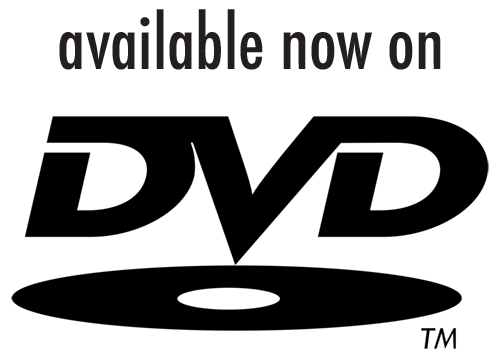 Heavens Above
is a spiritual journey presented in moving images, narrative text, music and song. Only the stars in the heavens and in planetariums connect a man and a woman, traveling separately. Though they travel on parallel paths, they are destined to meet as the Sun must eventually embrace the Moon. The two characters seek to explore the mystique of space and the esthetics of planetariums, as the physical heavens become their gateway to spiritual salvation. 
A science writer begins the season of Lent on a mission to report on planetariums and their role in modern life. As she travels the country, she is not alone. At the same time, a man is on the road in search of a new place after his home planetarium is destroyed. Their mutual lack of faith and despair is turned around when they discover each other, and the two kindred spirits set their sights on those things greater than human constructions of brick, mortar and time. 
Featuring an international soundtrack that spans the musical gamut from classical to modern and themes biblical to scientific,
Heavens Above
takes the audience on an unexpected voyage into the human heart and intellectual wonder, never forgetting that the journey is the destination.
16mm film and digital video, 30 minutes, color and black and white
© 2003 Germantown Films
______________________________________________________________________________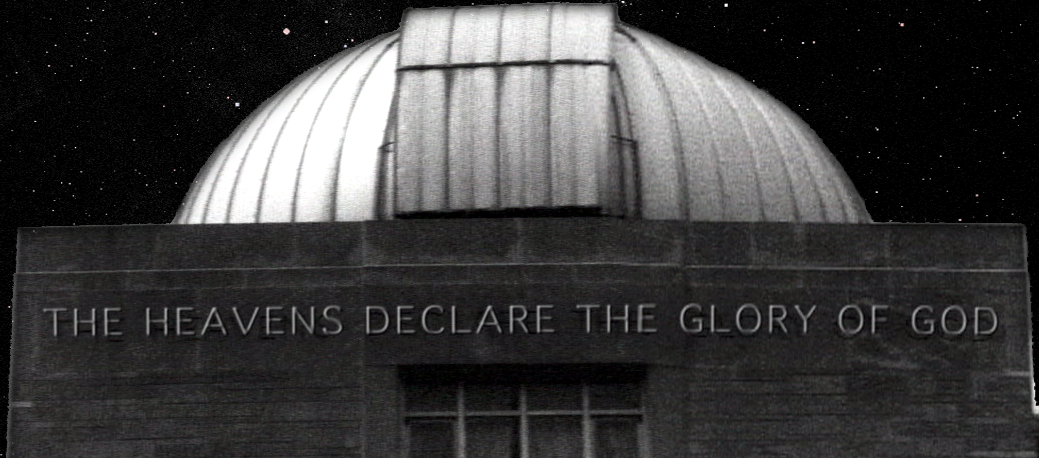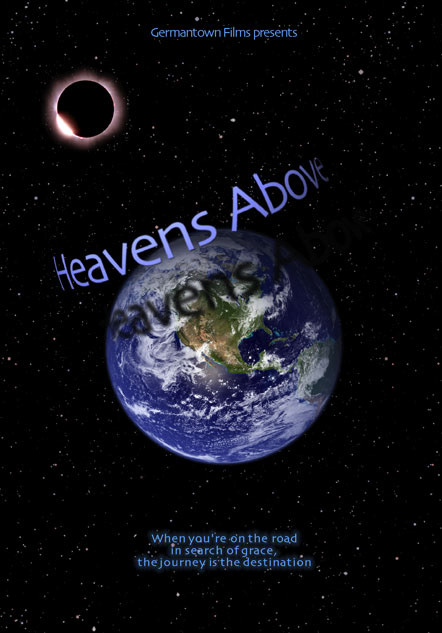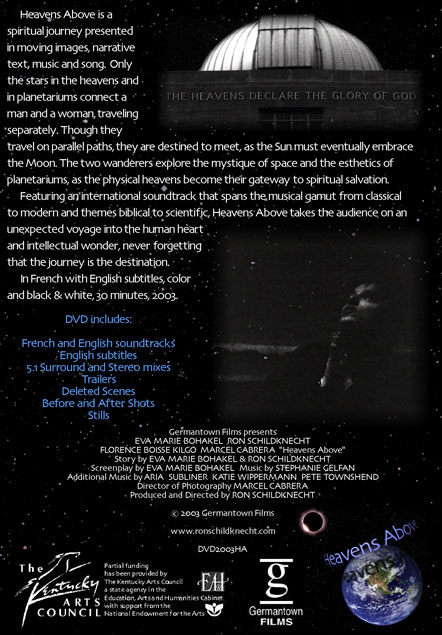 French and English soundtracks
English subtitles
5.1 Surround and Stereo mixes
Trailers
Deleted Scenes
Before and After Shots
Stills
2002 Louisville Film and Video Festival - Premiere
Midwest Music Festival (Lexington KY)
Western Kentucky Film Festival (Bowling Green KY)
ValleyFest Film Festival (Knoxville TN)
The movie found us wandering all over the northeast region. Many thanks to the following for allowing us to stop in and "take a picture.":
PLANETARIUMS AND OBSERVATORIES
OTHER LOCATIONS
Film Review
Cary Stemle
LEO / November 13, 2002
By now you've heard a good bit about the Louisville Film & Video Festival, which is under way and runs through Tuesday at the Baxter Avenue Theatres. A couple of items that haven't been highlighted yet deserves a fresh look.
Thursday evening, Louisville filmmaker Ron Schildknecht, who has a long association with the festival, will show his beautiful 30-minute film "Heavens Above." The experimental film focuses on two people - a man and a woman - who are on parallel paths that are destined to cross. The man is on a mission to find a new planetarium after his "home" planetarium is razed. The woman is a writer in search of a new way of looking at the world.
The black-and-white film is in French with subtitles. There's little dialogue, per se; a narrator tells the story amidst a nice musical score that wraps up with a way cool version of Cole Porter's "Begin the Beguine" by Pete Townshend. The film is part of a trio of American Narrative Shorts that will be shown beginning at 8:30 p.m. Thursday; Schildknecht will answer questions afterward.
Production, Direction and Editing
Ron Schildknecht 
Story and Screenplay
Ron Schildknecht and Marie Lee
Director of Photography
Marcel Cabrera
Music
Stephanie Gelfan
Additional Music
Aria
subLINER
Katie Wippermann
Pete Townshend
Sound Recordist and Mixer
John Schroeder
Colorist
Ellen Drinks
French Translation
Florence Boisse-Kilgo
French Recording
Martin Breeson
Narrator
Florence Boisse-Kilgo
Woman
Marie Lee
Man
Ron Schildknecht 
Friend/Narrator
Marcel Cabrera
"Anti-Gravity"
Performed by subLINER
Written by Mikko Nieminen
"Streamers"
Performed and Written by Stephanie Gelfan
Published by Moeki Music
"Bear Dance"
Performed by Stephanie Gelfan and Tony Vacca
Written by Stephanie Gelfan
Published by Moeki Music
"Je Me Souviens"
Performed and Written by Stephanie Gelfan
Published by Moeki Music
"Ave Maria"
Performed by Aria
Written by Paul Schwartz
Published by ZAKATAK MUSIC (BMI)
Administered by BUG
"Ave Maria"
Performed by Katie Wippermann, Soprano
Samuel Hodges, Piano
Written by Bach/Gounod
"After the Rain"
Performed by Stephanie Gelfan and Tony Vacca
Written by Stephanie Gelfan
Published by Moeki Music
"Begin the Beguine"
Performed by Pete Townshend
Written by Cole Porter
Published by Warner-Chappell
All songs used with permission
Excerpt from "The Old Astronomer to His Pupil"
Poem by Sarah Williams
Hubble Telescope images provided courtesy of NASA
Solar eclipse images provided by Fred Espenak
Partial funding has been provided by
The Kentucky Arts Council
a state agency in the Education, Arts and Humanities Cabinet
with support from the National Endowment for the Arts
SPECIAL THANKS
John and Doris Bickel
John Kielkopf
Scott Miller
Ed Counts
Jean Montiel, Bug Music
Nick Goderson, Eel Pie Recording Productions Ltd
The Sisters of St. Benedict, Ferdinand, Indiana
COSI, Columbus Ohio
Lourdes College, Sylvania, Ohio
Waffle House, Wapakoneta, Ohio
Sands Lounge, Sandusky, Ohio
Jolly Donut, Sandusky, Ohio
Hardin Planetarium, Bowling Green, Kentucky
Rauch Memorial Planetarium, Louisville, Kentucky
University of Louisville
This motion picture was filmed on location in
Kentucky, Ohio, Indiana, Illinois, North Carolina, Michigan and the...
Heavens Above
©2002 Germantown Films